Customer Comments
Llewellin Setters
---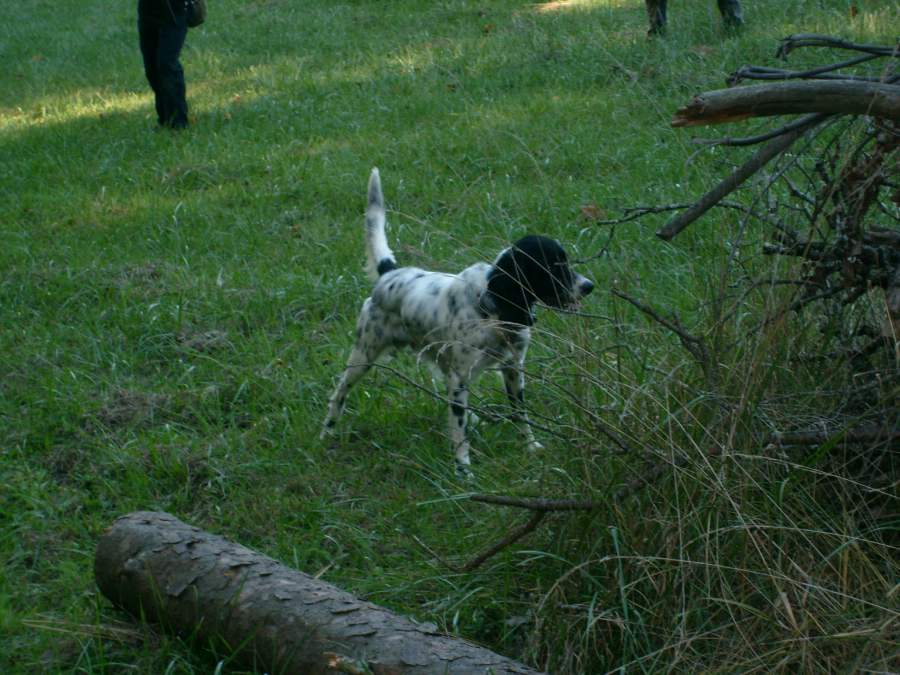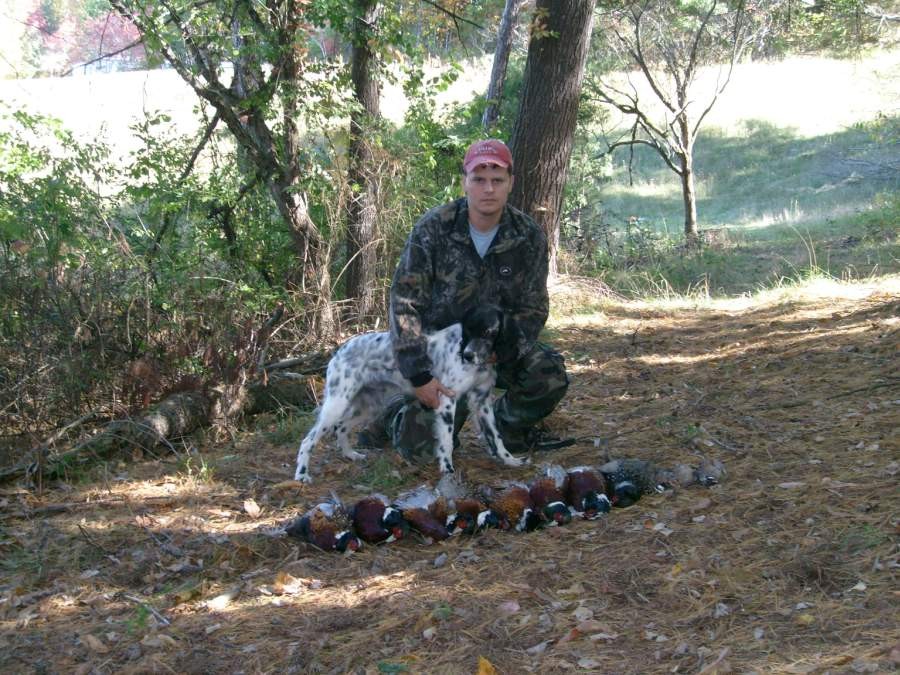 "Hi Randy,
As you know he is my first Bird Dog. And like I have said before everyone I know who has seen him work can not believe he is as young as he is. What I can tell you is that all those birds were from him. I put out 10 pheasants and 8 quail. He pointed all 10 pheasants but the guys shooting only got 8 of them. Of the 8 quail released 2 flew away on release leaving 6 to hunt. He pointed all 6 and the hunters shot 3 and 3 got away. He also was flawless on every command I gave him. He really works hard to please me every time out.
Thanks Shane"

"Hi Randy,
Hope everything is going well. I just wanted you to know that the pup I got from you has just finished his first season. He has surprised everyone who has seen him hunt at what he can do for a 1 year old pup.
Anyway I just wanted you to know how this wonderful pup I received from you is doing and also did you get any phone calls about pups. I have gave some people interested your number.
Hope everything is going well. I had a friend ask where he might be able to get a pup like mine and I gave him your number. He is very interested in a pup I think he will probably ask if you have breed Kate and Bo. He also said he may have a friend interested also. One other thing, Mr Fowler at Fowler farms told me that my pup was too fast to help guide hunts for him. We released 10 birds in singles the other day and my hunt was over in less than 45 mins with all 10 birds in hand. Thanks Shane"
---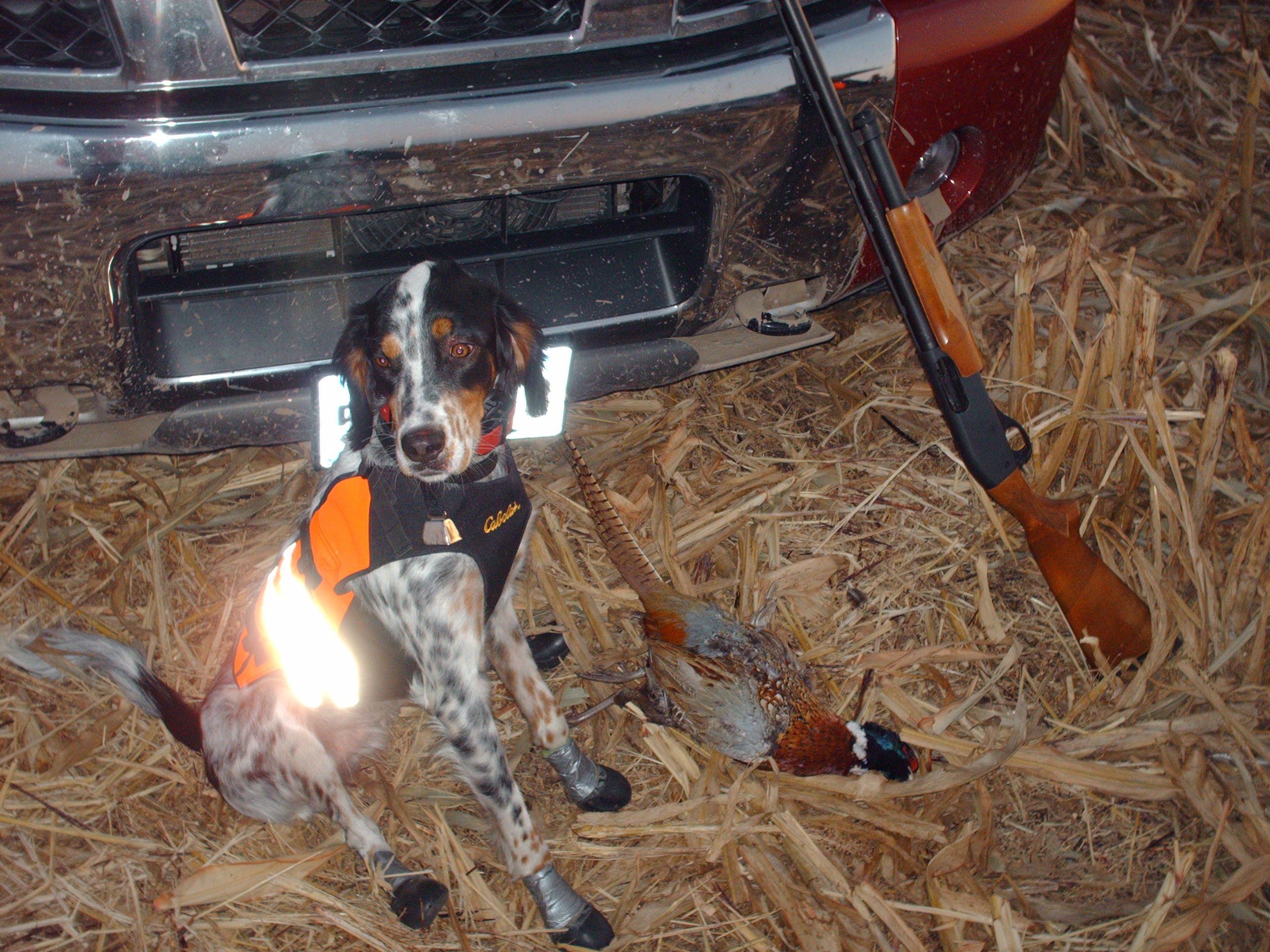 I wanted to drop you this note on the pup I got from you in May 2007. We named him Pete and he is a very nice Llewellin Setter. I trained him a little and relied on his natural instincts. I canít stress enough to the people who purchase pups from you that they must find a source of live birds and a place to train them, even just if with a bird launcher/cap gun. The result is that Pete has been an awesome hunter, using the instincts you bred him for, to hunt very well. Iím still on the hunt with him in Kansas for Pheasant that was his first exposure to wild birds.
He has done great!!
The Roosters have run, and he has learned to adapt, and signal me. I can then send him on and he will rush forward and find the bird again and re-point.
The last rooster we got is pictured here. He pointed it three times and finally pinned it. One of the hunters in our party walked around it and didnít think it was there. After he walked off, I believed the dog and flushed and killed the Rooster in the picture.
The boots and vest Pete is wearing are required because he had hunted so hard that his belly and feet were shot over the three days.
I couldnít be happier with Pete as a family dog or a hunter!
Thanks,
Duane Harvey
---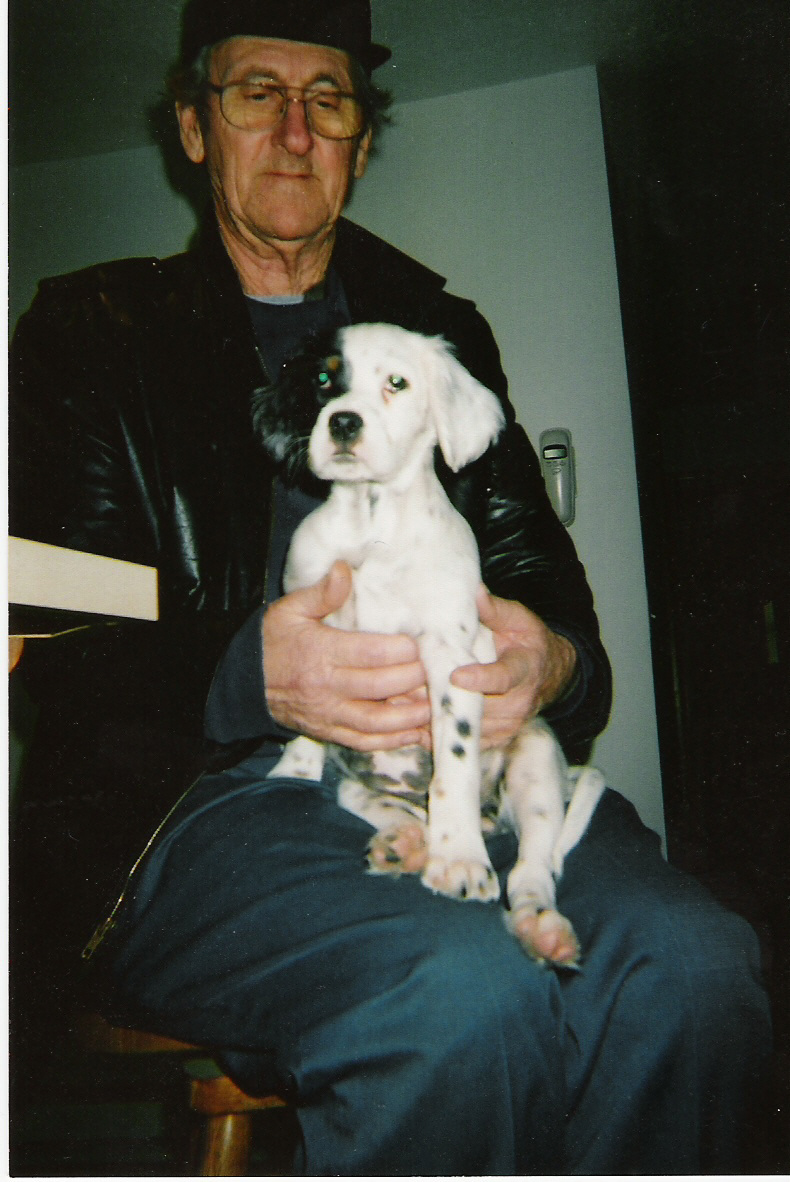 "Hi Randy, Took the pup to dad's yesterday morning, called and told him I was coming down but didn't say anything about the dog. Parked in the driveway about 40 yards from back door, knew he would be watching out the back door. Opened the truck door and just sat the pup on the ground then got out of the truck, pup just looked up at me and I said come on and I headed for the back door. She followed just prancing all the way. When we got to the back door dad already had the door open with a big grin on his face. Wanted to know what I had with me, told him his next bird dog. Talk about a man being outdone, he was one. He knew I was looking for him one but I think he'd bout give up on me finding one. Any way we went on in, he sat down in his chair, wasn't but about a minute the pup went over to him he leaned over and started talking to it when it reared up on his leg he picked it up. I must have visited 45 minutes, the pup fell asleep in his lap and stayed there the whole time. When I left they both walked with me outside. Dad asked if I would stand with the pup while he went down to the shed to get some stuff to make it a bed in the house. Well he didn't make it far and the pup was right by his side. They disappeared around the back of the shed, when they came back the pup was busting through snow as deep as it was tall staying right with dad, and him looking proud as a peacock! I knew then the deal was sealed. And I want to thank you again for helping me make it possible." - Ed, Indiana
---
Mr Johnson,
You might remember me, I got the last of a litter Llewellin female that had a lot of black on her two years ago. Lady is the best I have ever had in my life and I'm 63 years old. Lady hunts consistent and methodical, loves to please and has a nose that is unbelievable, she is careful and excellent in the field. I continue to be well pleased, Lady learned how to handle pheasants in one day, she flushed the first one because she didn't know how to handle them running, the second one she pulled back, circled way around, and headed it off and pointed it. I can teach her almost anything I want her to learn in just a matter of a few sessions. This is the most humble dog I have ever had and I have spent a lot of time with her, she is a constant companion in the yard while I am working outside and loves my wife and me and our grandchildren. What a dog!
A very satisfied customer,
Jerry Asberry
Paducah, KY
I'll keep my faith, money, freedom, and guns.
YOU KEEP THE CHANGE!
---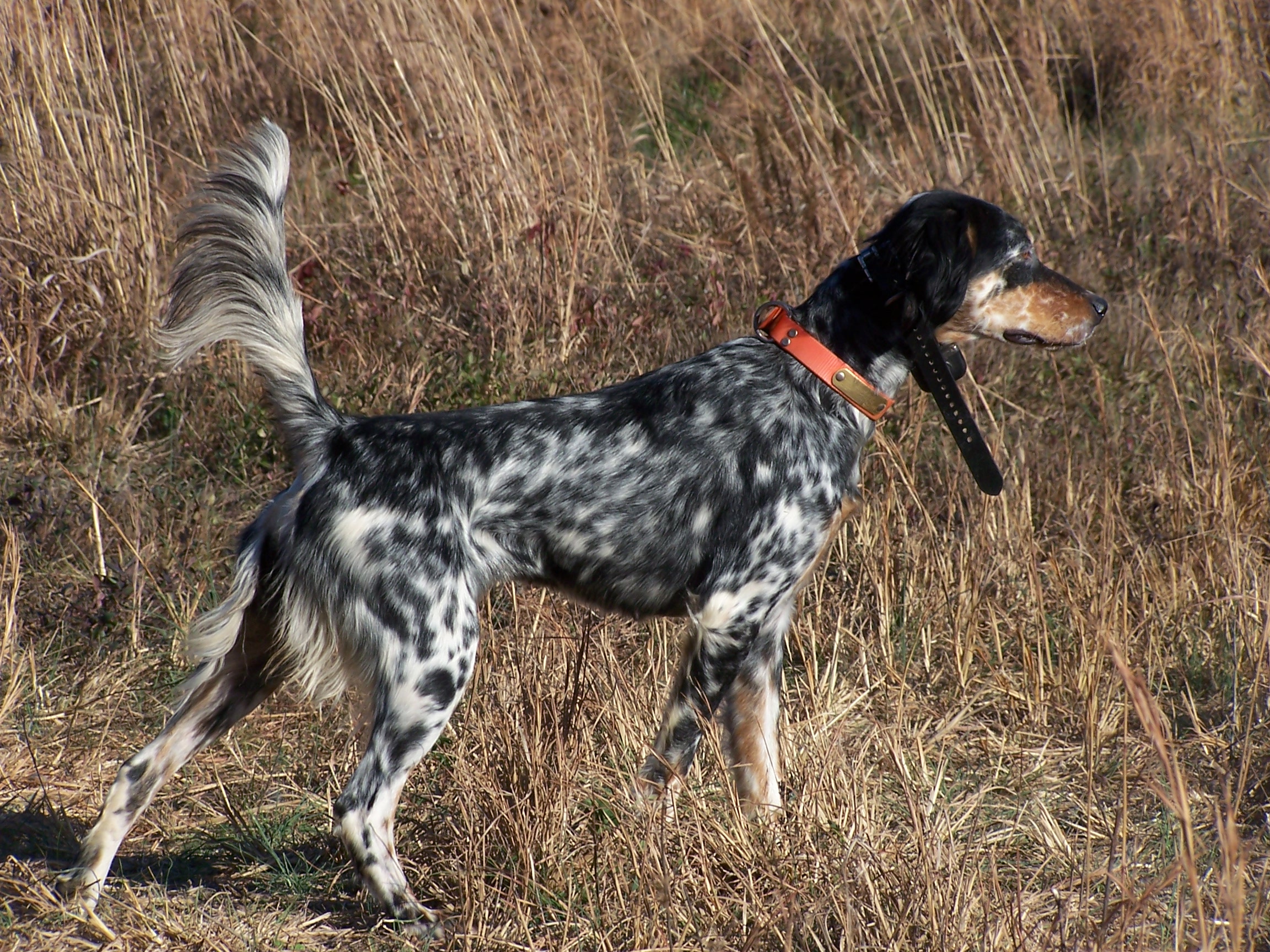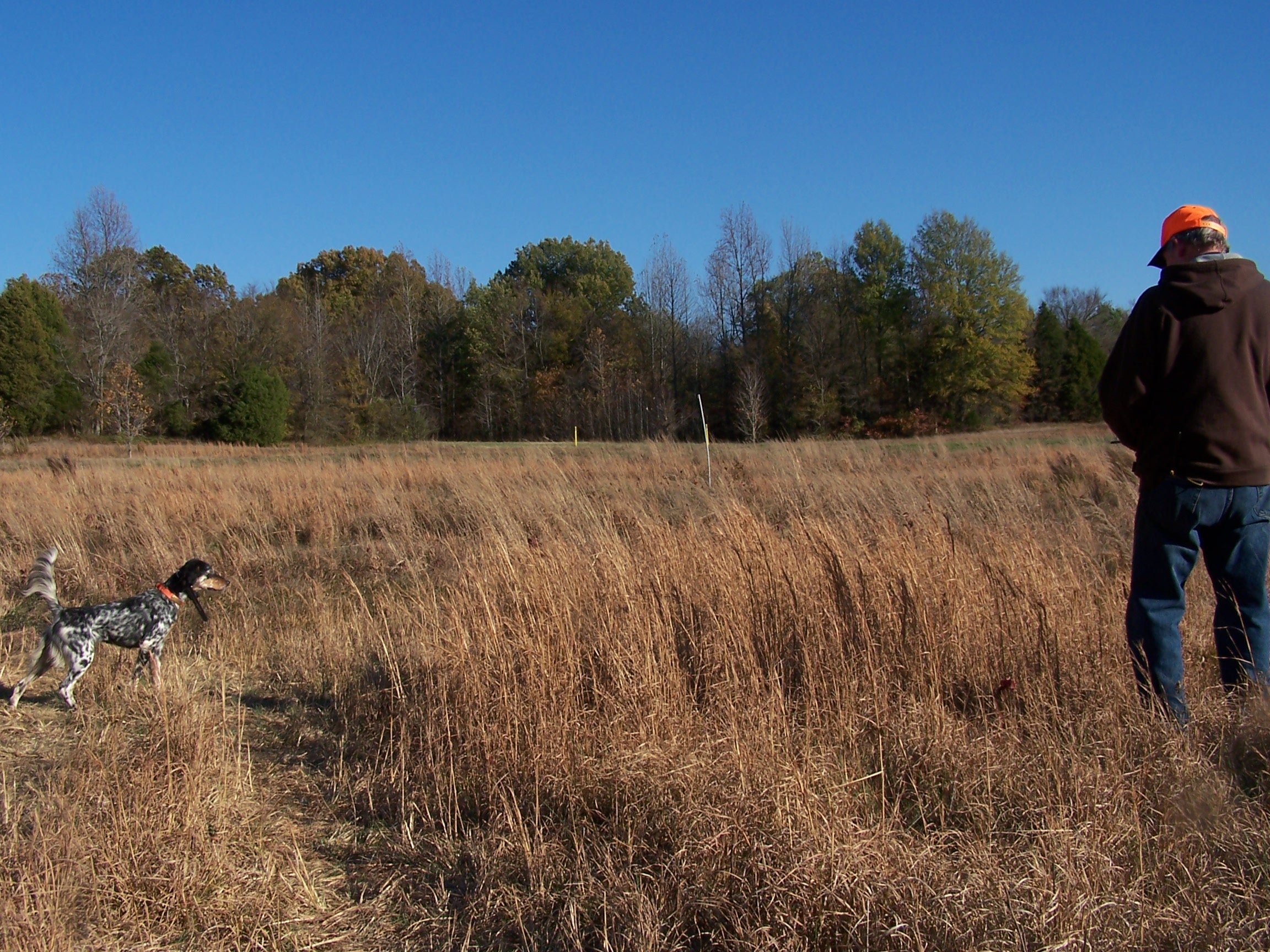 Randy,
Hope everything is going well with you!! We thought you might enjoy seeing some photos of one of your pups.
This is Brandy who belongs to Bruce Strom from Rockford, Ill. She has been here since early Sept. and is going to make a very fine gun dog.
How are Buddy & Jeremy doing??
Let us hear from you!
Take care,
Phil & Jane
---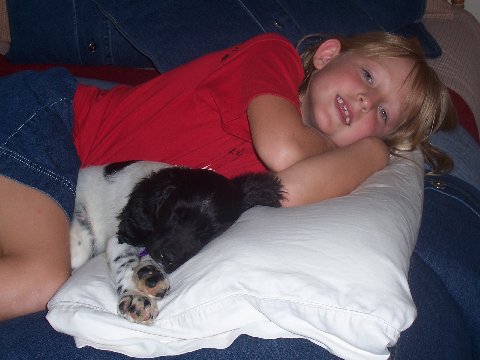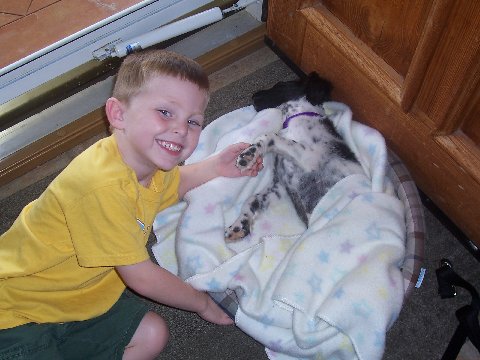 Kendal, Harrison, & "Annie"
"Hi Randy & Kena, Well, we finally named her after much thought. 'Annie' is doing great!! The first thing the kids ask in the morning is 'Is Annie awake yet?' Needless to say, she is played out in the evening. Annie loves playing outside and listening to the birds and trying to follow the deer trails and then coming inside and crashing by the front door. She has such a wonderful personality. Here's a few recent pictures (We take them on a daily basis!!) - Dudley, Kim, Kendal & Harrison Alexander, Texas
---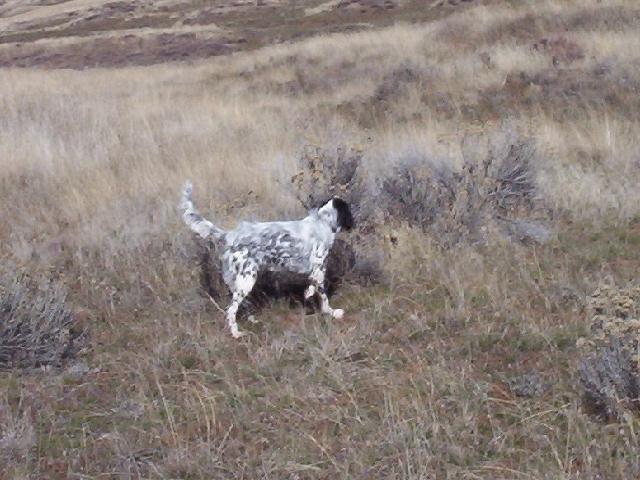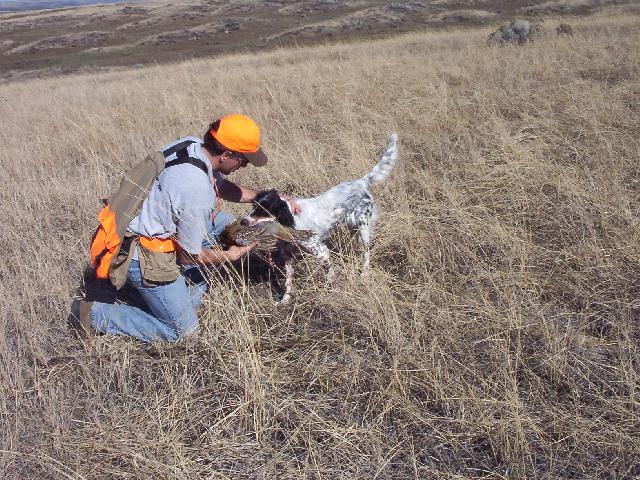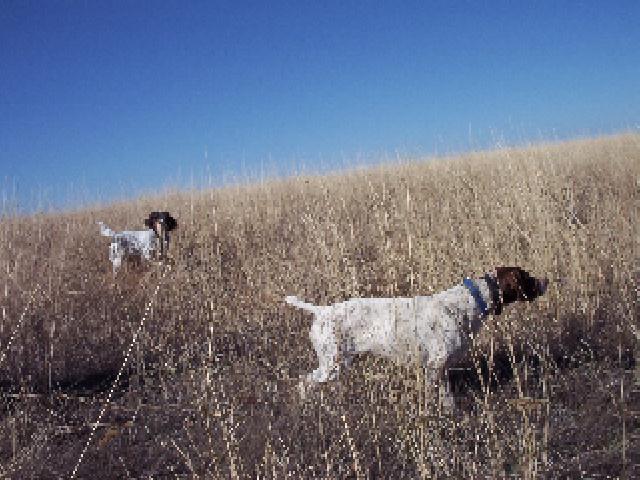 "Sage"
"Greetings from Sisters Oregon.
I wanted to shoot you an email and say how happy we are with the pup we got from you. He is now just over six months and is the fastest learning dog I've ever worked with. We named him "Highway Sage" and we call him "Sage" I began training him at ten weeks and actually took him wild chukar hunting at five months. I thought he was going to be good for a couple hours on the Deschutes canyons keeping up with my friends 7 year old German Shorthair - but he lasted all day. Sage did so well I took him two more times before the season ended - he did very well. Sage continued to mature at six months old and did very well on a stocked chukar hunt - chasing one wounded bird three hundred yards to where it landed and then chasing the running bird down for another 50 yards. He was so proud of the bird he preferred to keep it to himself but eventually he decided to give up the goods for a bunch of praise.
Just short of six months old I took him to some wide open country and had fifteen roosters released. In retro-spec we wouldn't have just let all of them fly from the bird box because these birds wanted to get out of Dodge. We spent all day tracking them down - it felt more like a wild rooster hunt than most wild pheasant hunts I've been on. At just short of seven months old Sage blew our doors off. I'd have to say he performed almost as strong as the highly trained and very experienced German Shorthair. Considering he's only seven months old and I'm still planning to give him a concentration of teaching over the summer and fall - I can't wait to see how he works next year.
I included three shots of Sage on the pheasant hunt that I thought you might like to see. I have them sized for my computer so let me know if you have trouble viewing them. The first shot is Sage locked up on a pheasant - showing some nice style. The second shot is the retrieve after the shot. The last picture was a real highlight. This was Sage's first "honor point" performed all on his own. It was so cool that we didn't move for about thirty seconds to let the dogs stay dialed in. Unfortunately, the bird ran like a screamin' banshee so we didn't get a shot until later - but the dogs tracked the bird together - so it was pretty fun.
Thanks again for such a great dog - I think we're going to be eating lots of chukar, pheasant, grouse and quail next year!
Doug," Oregon
---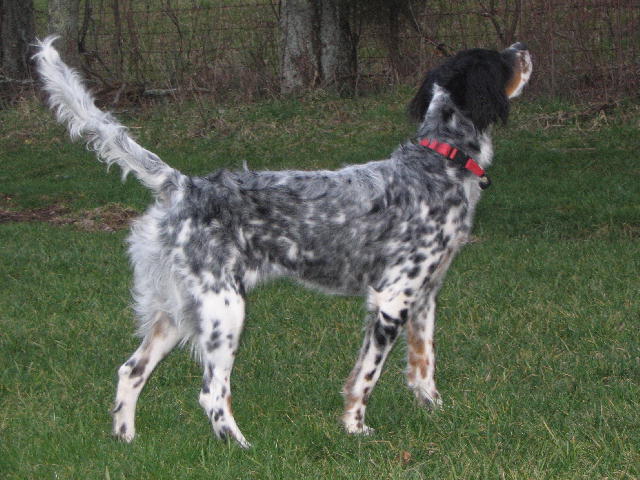 "Ellie"
"I wanted to send yaíll an updated picture of Ellie. She is a great dog & our family, neighbors, etc. enjoy watching her play and point birds all day!!" - Jimmy & Dana, Tennessee
---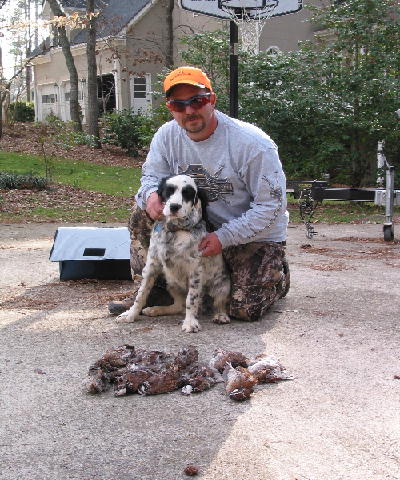 Jay & "Jake"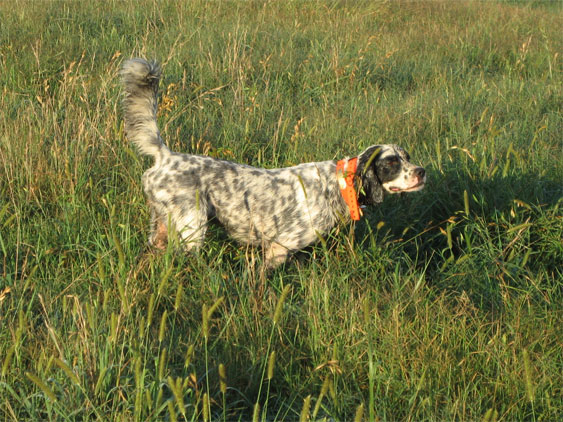 "Randy, I thought you might like to know how "Jake" is adjusting (my son named him). We went to field for the first time yesterday and he is a natural. After the first bird he was holding point long enough for me to flush. Not too bad for his first day in the field. We didn't lose a single bird (he found them all) but he isn't quite ready to retrieve in the field yet. Once again thank you very much for helping us with the selection of the dog.
Attached is a picture of Jake and I with the profits of our first hunt." - Jay, Georgia


---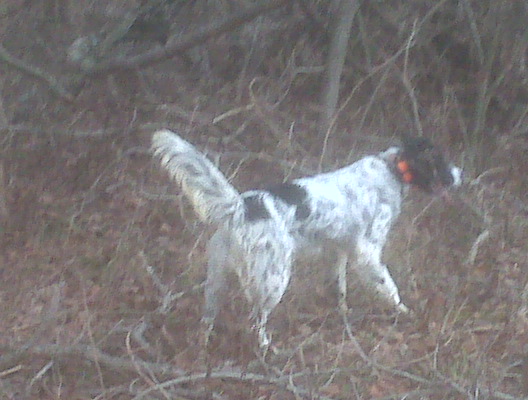 "Hunting today. Luke. Coming along well. Putting him on a lot of birds. Has a strong desire to please. Workin on getting him steady on birds. Good nose." Jack Indiana
---
"Hello Randy,
I just realized the other night that I had not contacted you. Back in Nov of 2006 we got our Angel dog from you. I never wrote to thank you so much for such a wonderful dog. Ellie has brought a lot of joy and happiness to all she meets. She always puts a smile on your face. Duane's father passed away a few years ago, leaving his mom alone and depressed. She now has (for a long time now) Ellie. Every morning she comes over and picks Ellie up and they spend the day together, they go for car rides and walks (weather permitting) and then she is picked up and taken for her daily run or hunt depending on the time of year - she is really a God send. We live on the same block as an
assisted living home and
in the evenings we walk over and see the people sitting outside. These people can no longer have their pets with them and Ellie puts big smiles on their faces. They pet her and talk about their pets, it is a very happy time for all. It is so nice knowing that we can make a little difference.
Sure we have had our little situations with her, we have lost her a couple of times - people have been very good about contacting us when they find her (thank goodness). All of course wished that they could have kept her. When she went to school for hunting at first the trainer was kind of leery of taking her - not thinking she would be able to do hunting. ( He is a very well known trainer) But by the time it came time to pick her up he had gotten pretty attached and was very sad to see her go. And she has turned out to be a wonderful hunter.
We have a membership to a hunt club so she can go a little longer than just the regular season.
Words could never express the joy and happiness this member of our family has brought us and so many others.
Thank You once again we love her very much."
Duane, Glenda and Family Minnesota
---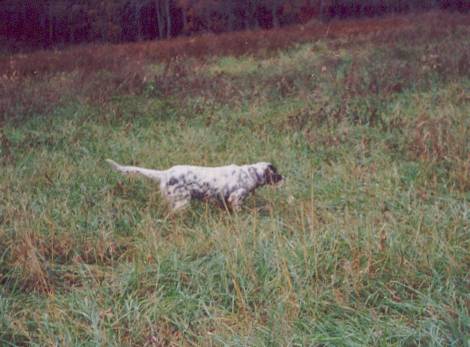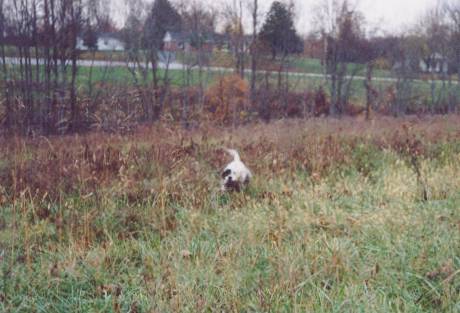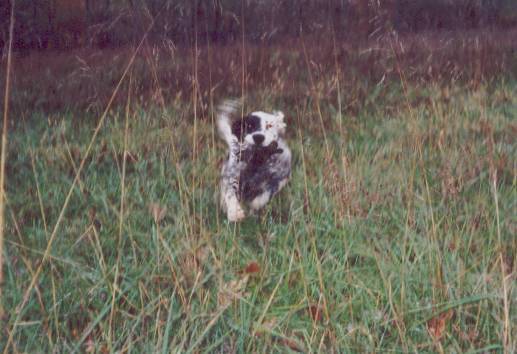 "Buddy"
These pictures are of Buddy, a pup out of Twin Cedars Annie and Highway Dan, at 5 1/2 months old on one bird, on point, at the start of the retrieve, and at the finish of the retrieve. "He is an impressive pup and he's only six months old!" -John Youngblood, owner and trainer, Tennessee
---
"I just thought I would drop you a note to let you know how Dutchess is doing. She is in excellent health and a wonderful companion.
She graduated Saturday from an 8 week puppy training class at Pet Smart. It was a weekly class for Dutchess and I to learn to work together with basic commands and such things. She did a fantastic job all through the classes. Very quick to learn with an unbelievable desire to please, with anything I showed her and asked her to perform. She is a beautiful little dog. The training classes are conducted in the store and part of the training is negotiating all the sounds, the smells, other dogs and people. She is a hit whenever she is in the store. She just loves all the attention she gets. The instructor said a customer in the store told her he was getting a rare puppy that are hard to train but are great dogs. When he told her it was an English Setter she told him to come to our next class and see how well one does with training.
She demonstrates excellent manners with other dogs and with people. My one grandson is afraid of animals. No animal has ever bitten him or growled at him, but he was afraid. Since he has been around Dutchess on a regular basis he says she is the best dog ever and is becoming more comfortable playing with her and around other animals as well. Itís like she senses she needs to go a little slower around him so she doesnít scare him.
With the house training she is doing very good. To the point that when she has an accident you wonder what went wrong. Her last best stretch without an accident in the house was a little over 3 weeks (I happen to think that is fantastic for any puppy her age). The other people in the puppy class couldnít believe how well she was doing and were envious of her progress. With obedience to commands, her dog manners and house training.
Take care and Have A Great Day"
Ron Pennsylvania
---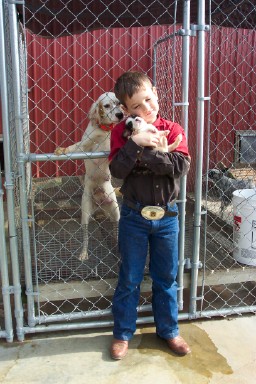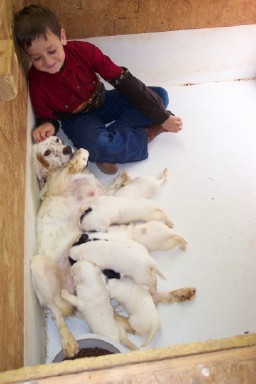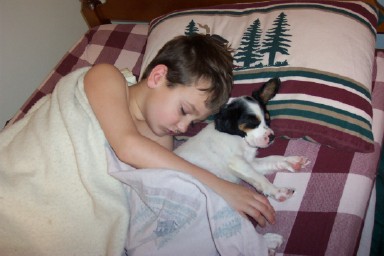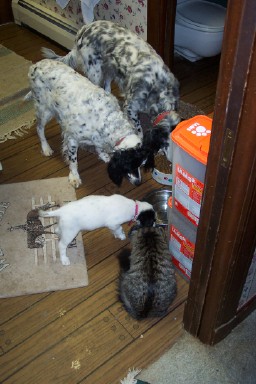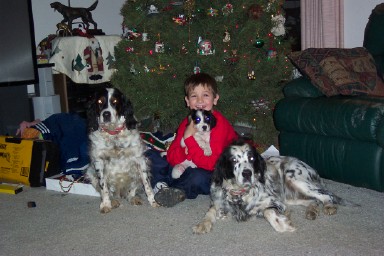 Clay & "Alli"
Clay & "Alli"
"We are excited to bring Allison home. We enjoyed our visit with Alli's birth family. We were impressed with the disposition of all of your dogs. You have a top notch facility! . . . Alli & Clay are best friends already! Alli is part of the family with the dogs, cats, and us. . . Alli is a 'wonderdog,' she was barking at the door to potty and sleeping with us the second day we had her. . . It is remarkable the joy one puppy can bring to a family. Alli has definitely brought great joy to our family." - Pete, Kelli, & Clay, Ohio
---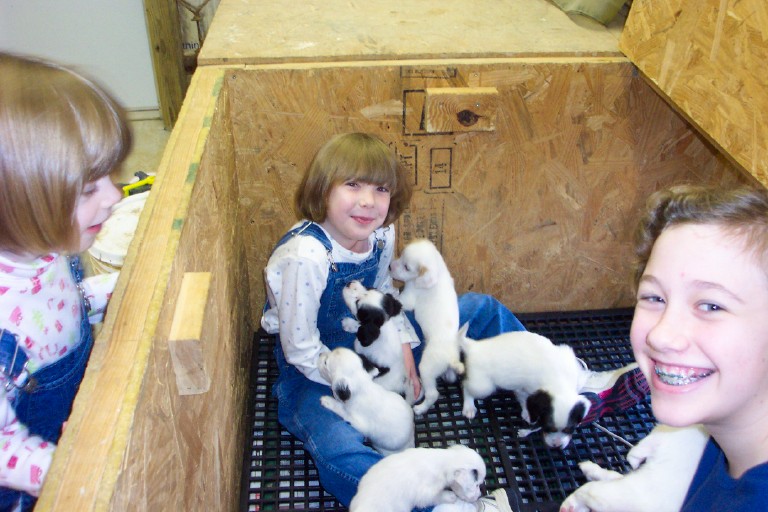 "Angel"
"We had a tremendous time at your Kennel. What a first class operation. Your Dogs were great. So friendly and warm." - Bob, Sue, & the girls, Wisconsin
---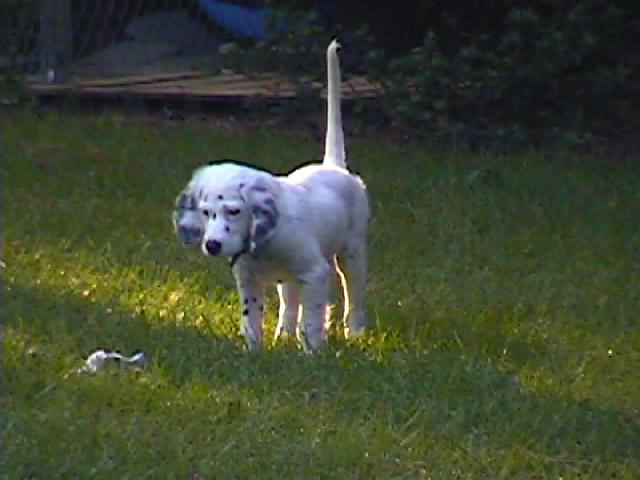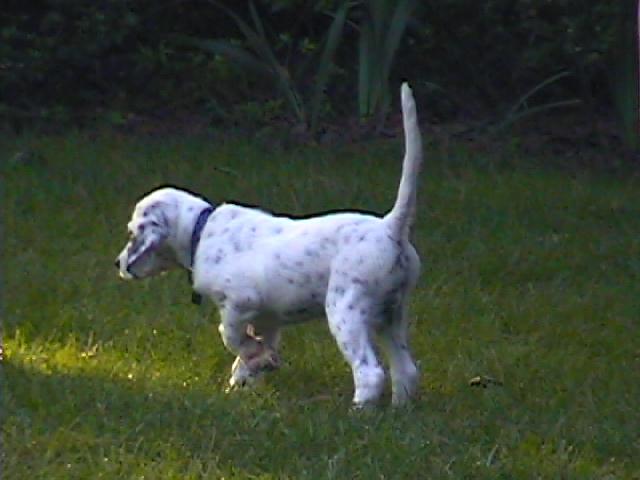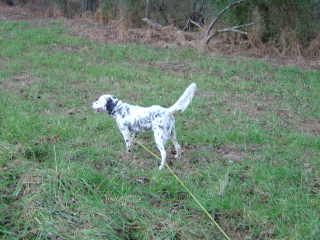 "Mac"
"Thought you might like to see some pictures of Mac. . . He's doing great. . . He seems to have a great nose and hunting desire. He looks great and we have made him a pet also - bring him in at night from his kennel." - Tom, Georgia
---
Just wanted to update you on my pup's progress. He seems to have very good scenting ability and is very intelligent. We are taking it kind of slow at this young age but he is already handling very well and locating birds with great intensity. - Everett, California
---
" 'Scooter' made the trip like a pro. . . He is a real treat to have and was well worth waiting for Annie to deliver in style." - Bob, Missouri
---
"Just want to let you know that the male pup that I bought from you is doing great. He seems to be very bold and you can tell that he has been socialized with human touch since birth. . . So far he is doing great, he has really bonded with me. He is very bold, he is hunting when I take walks with him in the evenings. he is already pointing a grouse wing on a string by sight and by scent. He has been doing so well that yesterday I planted a quail for him where he could not see it, and when he came within 30 yards or so of the bird, his head went up and then his tail up and he immediately locked up into a beautiful point, very stylish looking, he held it for a long time before he broke point to go after the bird. This dog seems very birdy and so far I am very pleased with his temperament and his high head and tail carriage. Yesterday, while we were playing out in the front yard, I noticed him wind scenting something, so I tried to see what it was, and about 75 yards or so there was a rabbit in my horse pasture that he was scenting, wow I hope this is a small picture of things to come. . . Thanks for selling me this dog and for answering all my questions. . . P.S. I forgot to mention that this pup loves to fetch my old leather gloves over and over again, he can't seem to get enough." - Mike, Kentucky
---
"Sadie is doing great. . . I have a swimming-fishing hole we put in our field and if we go down to the pond we can't keep her out, she loves water . . . She is the joy of my life . . We spend a lot of time just playing. . ." - Trish, Missouri
---
"Just wanted to let you know how our pup is doing. At our vet checkup this week he weighed in at 19 pounds. 'Spot' is a wonderful dog. He is very social, has been around many people, other dogs, rides in the truck or car, etc. He is so darn smart it amazes us. For example, this afternoon I was standing out on the pier looking across at the lake trying to figure out if we now have a beaver in there and all the sudden there goes Spot swimming out past the pier right toward where we were looking. I guess it was because we were looking and pointing in that direction but I would swear he was like, 'ok, I'll go check it out.' I guess you can tell by now that he likes the water! Everyone just gushes over him. Our vet said he hasn't seen a Llewellin in years. He seems to have become quite attached to us as well. Warmest regards and thanks so much for a wonderful dog." - Lisa, Mississippi
---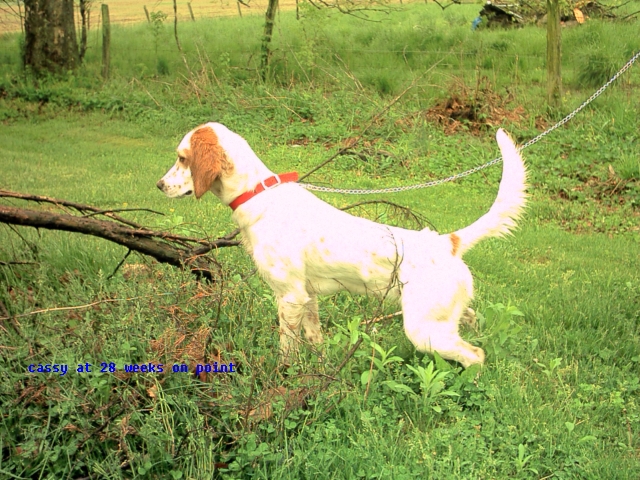 "Cassie"
"'Cassie' did fine on the trip home. She slept most of the way. I had her outside and she is already acting birdy. Thanks for your help. We will keep in touch and will send pictures to let you see how she is growing. Also, please feel free to post our email addresses and name for references if you would like. . . Thanks again. If we hear of any one interested in getting a bird dog we will give them your web address." . . . "Sending you some pics . . . She is pointing and doing really good. She knows what she is supposed to do. We could not have picked a better dog than the one we got." - Pat & Rhonda, Indiana
---
" . . . wanted to let you know how pleased we are with the pup. She has taken to our home and the field with great results. . . She has such a gifted nose, that it can find anything and especially trouble. She has just enough of a stubborn streak in her that I really appreciate in a working dog, and the family appreciates with her play. She points as if she's been born to do it and has such a high energy level in the field that she would go forever. I really could not have made a better choice. . . I only wish now we had gotten two, but there's always next year. I know 'Maggie' is only a little over four months old, but she makes us feel like we've known her forever. Thanks again." - Peter, Indiana
---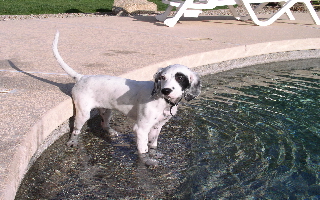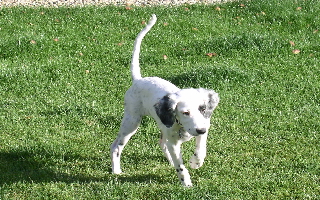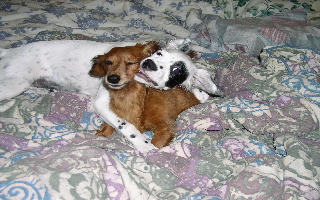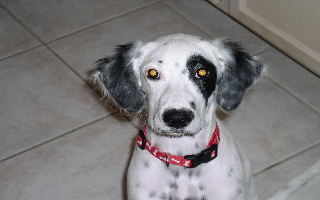 "Blue"
"I just want to tell you that Burt is in heaven over getting the pup he wanted. Gosh, I have not seen him this excited ever!!!!! He made me watch the training video and he is already spending way too much on her. The whole time telling me how we cannot spoil her, it's pretty much guaranteed that she'll be spoiled rotten in no time. . . I just want to thank you once more for all your help. Keep in mind that if anyone ever wants to talk to a 'previous customer,' we would love to do it and we would give you two thumbs up!" - Burt & Alex, Arizona
---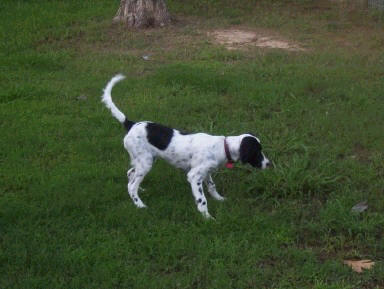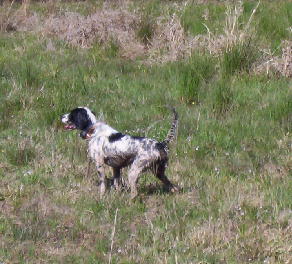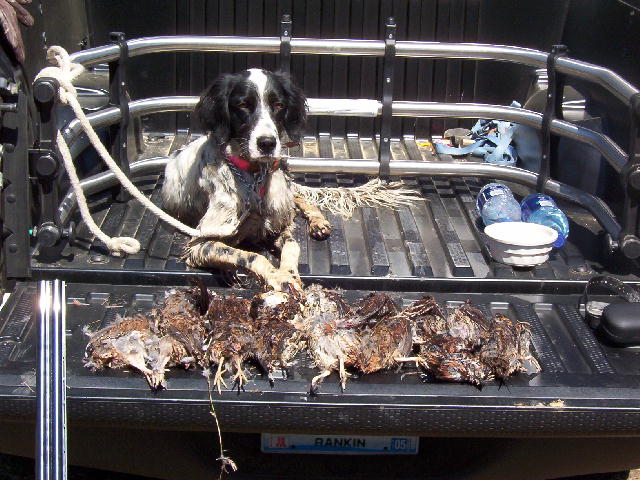 "Lily"
"It has been about three months since we picked up our Llewellin pup from the Highway Dan/Twincedar Annie litter. 'Lily' has been a wonderful dog, and quickly made herself at home . . . She is very smart, sometimes too smart for her own good, but she definitely keeps me on my toes with her training . . . I have no doubt that she could easily handle everything that I throw at her. Just by watching her in the backyard, I am impressed with her hunting instincts --she is constantly pointing and chasing bugs, birds and anything else that might wander across her path. I'll probably be introducing her to birds in the near future, so I will try to drop you a line about her progress once she gets going. Lily is, by far, one of the sweetest and good natured dogs I've ever had, as well as one of the smartest. She seems to have a great hunting drive, and a real desire to please. She loves to talk to us, although sometimes she talks too much!! . . . We are very happy with Lily, and we're so glad that we were able to find you when we started looking for another dog. We were impressed with the quality of your kennel, and truly appreciated the time that you took to discuss everything with us before we made our decision. Thanks again, and I'm sure you'll hear from us in the future." - Steve & Tessa, Mississippi
Update:
"Randy: Just wanted to give you an update on our pup, Lily. Its been just over a year since we picked her up from your kennel, out of the Highway Dan/Twincedar Annie litter. Since then, we've sent her to Dr. Fortner for training ... we dropped her off in late August and picked her up in early November. He was quite impressed with her, and commented on how easy she was to train. Various issues prevented me from actually hunting her until this month, but you would never know it from the way she performs. She is a fabulous hunter. Her nose is unbelievable; she often points birds 20-25 yards away -- quite an accomplishment for a 15 month old pup! Her style is amazing, and as you can see from the pictures, she is incredibly intense. Throw on top of that what a great pet she is, and I cannot tell you how pleased and excited we are to have her. I cannot tell you enough what a great operation you have, and how good the dogs you produce are. They are not just great hunters, they are great family members too. I guarantee that I will be back in a few years to pick out another pup so I can have a couple of hunters! Thanks again for allowing us to have this wonderful dog.
PS I had the chance to meet Buddy when I dropped Lily off with Dr. Fortner, and I wanted to congratulate you on how well he has been doing in the trial circuit. I feel a little proud every time he wins another stake, just because I know you and Dr. Fortner! Also, let Jeremy know that he is getting quite the reputation as a handler amongst the NLGDC crowd. Keep up the great work!!" - Steve & Tessa, Mississippi
---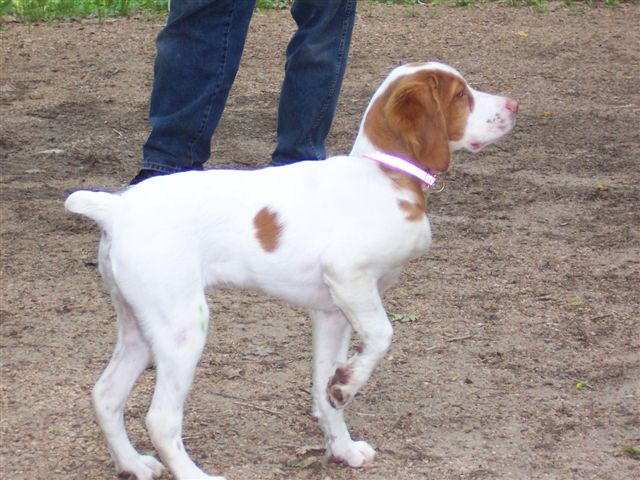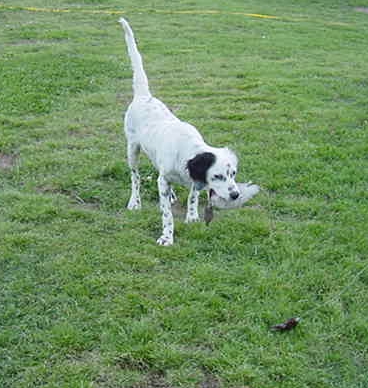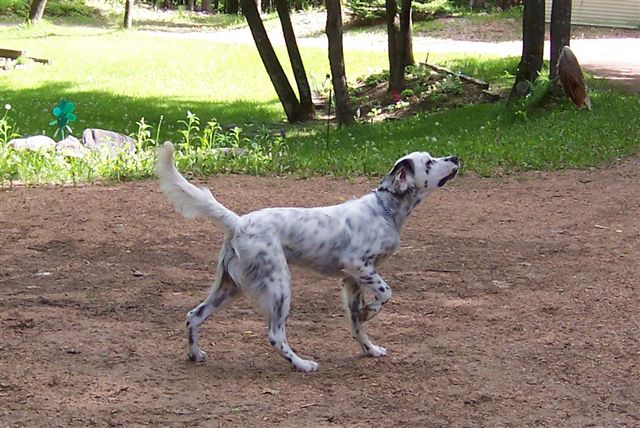 "Tanner" (Brittany) at 4 mos., "Hunter" (Llewellin) at 6 mos. pointing a wing while retrieving a dummy bird, & "Hunter" at 7 mos. on point
"They are learning their house manners well and are a real thrill to have in the woods with us. Both dogs are progressing very well and we are extremely pleased with each of them. Hunter is developing into a very handsome dog. Tanner is going to be a real gem. He is smart and responds well to commands. The pictures show both of the dogs on point." - Dick, Wisconsin
---
Randy,
Just a quick note to let you know that the setter pup (Gypsy) I got from you is doing unbelievable work for a 9 month old dog. Great finds, solid points held to wing and so far no creeping on running birds. She backs and honors like a finished 4yr old. She will fetch every bird she can get to first, but I can call her off if necessary. She does like to run around a bit before retrieving but Iím not complaining. She has a great personality around the house and has had no issues with other dogs. Up Ďtil now she has worked on pigeons, quail and chucker. Next week she graduates to pheasant and I am now planning to take her to South Dakota for some wild birds in November. Believe me, I did not expect to have her to this point for another year. This pup is making me look like a much better trainer than I am. It is just amazing what natural abilities a dog can be born with. You are to be congratulated for breeding such a fine dog. I even started working her on blind retrieves, weíll have to see about this but I figured there must be something I have to actually train her to do.
Regards,
Bob, Pennsylvania
---